SKU: SPA-6X18FTO-BLACK

UPC: 724744211019

Condition: New

Availability: Orders placed before 2PM PST (excluding holidays and weekends) ship same day.

Weight: 1.05 LBS

Shipping: Calculated at the Checkout

Material: Spandex

Color: Black

Table Size: 6 feet X 18 inches

Shape: Rectangular
High Quality 6 FT x 18 Inches Rectangular Open-Back Black Spandex Tablecloths.
These black tablecloths can be used for classroom tables and children tables that are 6ft in length and 18 inches wide.
Our classroom black table covers made from high quality four-way stretch spandex material and these table covers exemplify modern sophistication and urban elegance. They are designed to fit 6 ft or 72" x 18 inches rectangular tables with 30" height at weddings, casinos, hotels, restaurants and other special events. Our spandex rectangle tablecloths feature deep canvas foot pockets, are durable, do not require ironing and can be laundered countless times. Why pay linen rental prices when you can purchase stretch spandex table linens for hotels, restaurants, and catering services at lower costs?
MATERIAL. Made from wrinkle and stain resistant four-way stretch spandex material
GSM. 200 (A measure of the weight and thickness of the fabric)
COLOR. Black
FIT. 72" rectangular tables / 6 ft rectangular tables that are 18 inches wide and 30 inches in height
CARE INSTRUCTION. Machine washable with water (cold or room temperature) in gentle cycle. Use normal detergent. Bleach is not recommended. Don't wash with other materials. Wash like colors together. Tumble dry with low temperature. Avoid overloading the machine and make sure that both the washer and the dryer are in good working order. Gradually dry in dryer to avoid temperature shock.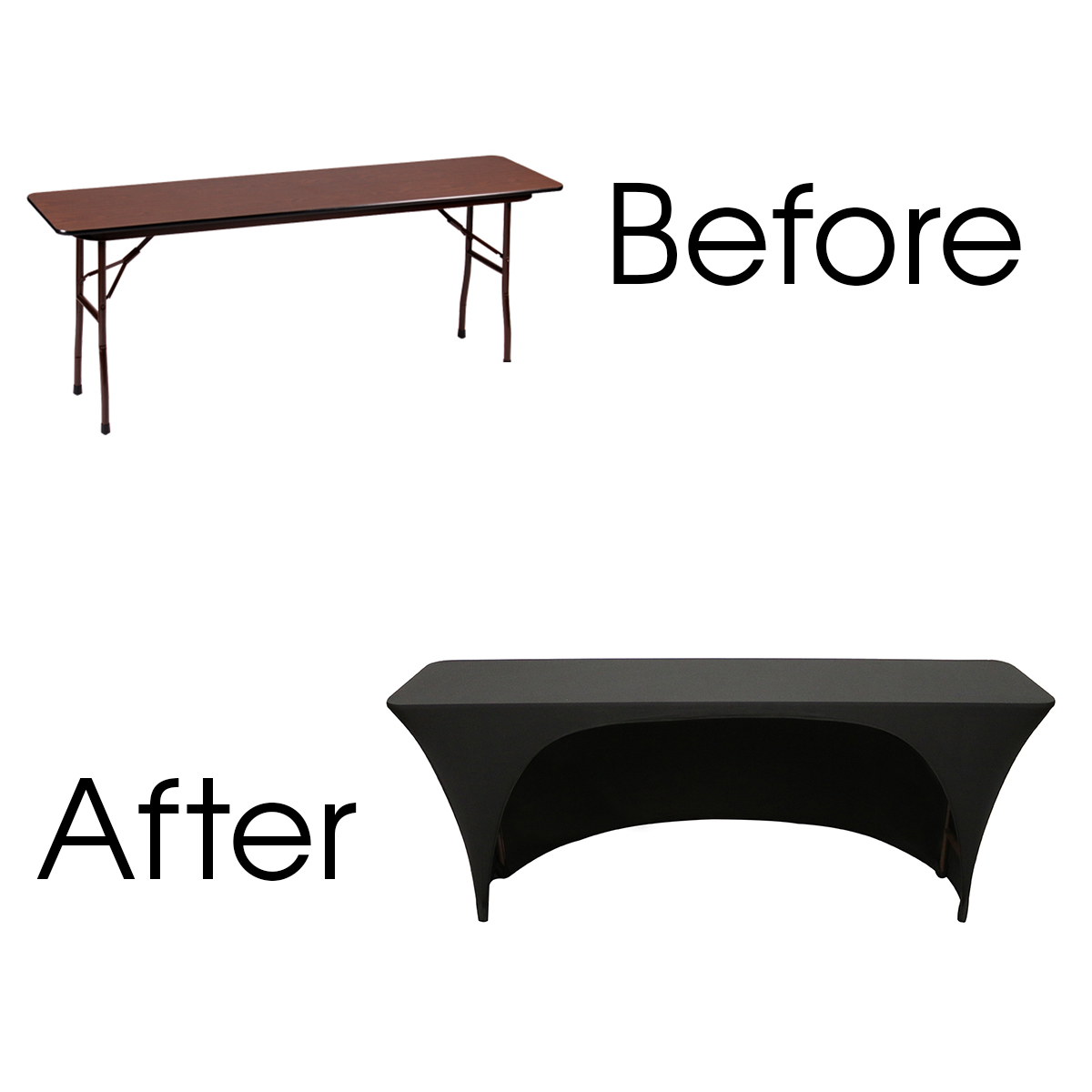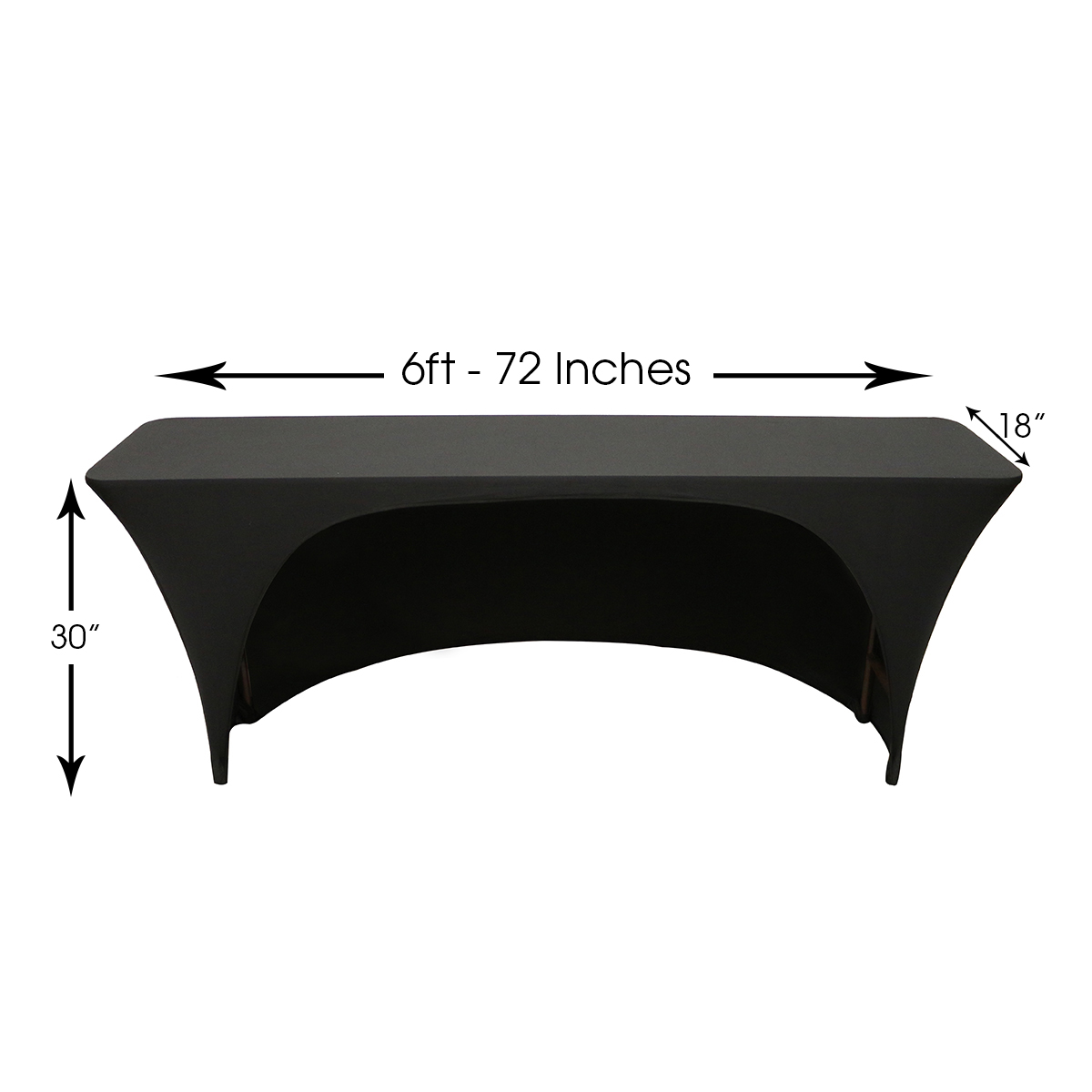 The reason for the 4 star is because the little pockets for the table legs to go in are really small and shallow therefore the tablecloth slips off easily. We have ordered these tablecloths many time in a few different colors and have always had trouble with getting the legs to fit in the pockets BUT with some stretching it was manageable. For some reason with this latest order we can't get the legs to go in at all even with stretching the pockets. If your table legs are not like the one in the picture shown be advise that they might not fit. Other than that, the tablecloths are durable and sleek looking! I would also like to add that the customer service is fantastic. Shipping is super fast too! I recently ordered 10 tablecloths but only received 9. A simple email to customer service and we received the missing item within a week! No questions asked. Customer service like this deserves to be recognized. If somehow you could make the pockets a little wider and deeper, that would be awesome.

Very pleased with product and speed of shipment!

I am with a small hotel in the Denver Tech Center. We have been using the old-fashioned linen for our classroom meetings/events which was such a pain to set-up and did not look modern at all. I ordered the spandex open back linen and within a couple of hours I got an email stating the order had been processed and shipped. Amazing! We were excited when they arrived and set-up a few tables just to see how they looked. It was so much easier and looked amazing! Great prices, quick and great product as well! What else could you ask for?

These covers fit well. I am using them on a different table than pictured, but still work. The only reason I am giving them a 4, is because I have not yet washed them, so I do not know yet how well they launder. But everything I have seen thus far, leads me to believe they will be fine! We are using them in a classroom situation to cover training tables. They certainly dress the place up! They make our environment much more professional looking! We ordered BLACK.