SKU: SPA-FOLD-BLACK

UPC: 702785740804

Condition: New

Availability: Orders placed before 2PM PST (excluding holidays and weekends) ship same day.

Weight: 0.42 LBS

Shipping: Calculated at the Checkout

Bulk Pricing:

Below are the available bulk discount rates for each individual item when you purchase a certain amount

Buy 100 - 199 and pay only $2.29 each
Buy 200 - 299 and pay only $2.19 each
Buy 300 - 399 and pay only $2.09 each
Buy 400 - 499 and pay only $1.99 each
Buy 500 or above and pay only $1.89 each

Material: Spandex

Color: Black

Size: Folding Chair

badges: bulk
Durable and of premium quality, our spandex folding chair cover in black is designed to fit any standard folding chair. Made from high quality four-way stretch spandex material, our black stretch spandex chair covers exemplify modern sophistication and luxurious elegance. For years now, we've been supplying these black stretch chair covers to chair cover rental companies, restaurants, wedding venue owners, hotel and catering business owners. These types of chair slipcovers stylishly contour folding chairs, giving them the sleek, formal appearance. Black spandex chair covers from Your Chair Covers have deep canvas foot pockets, do not require ironing and can be laundered countless times. If you're planning a lavish event, chair covers from Your Chair Covers make an excellent choice because our wholesale tablecloth and chair cover company is known for meeting hotel and restaurant product quality standards.
MATERIAL. 100% wrinkle and stain resistant stretch spandex*
GSM. 200 (A measure of the weight and thickness of the fabric)
COLOR. Black
CHAIR TYPE. Fits any standard folding chair
PACKAGING. Our spandex folding chair covers are individually-packaged.
CARE INSTRUCTION. Machine washable with warm water in gentle cycle. Use normal detergent. Bleach is not recommended for this color. Don't wash with other materials. Wash like colors together. Tumble dry with low temperature. Avoid overloading and make sure washer and dryer are in good working order. Gradually dry in dryer to avoid temperature shock.
For help on how to determine the right folding chair cover size, please use the sizing chart below. For more information about our wholesale chair covers and complementing tablecloths, please call us at 877-450-8383.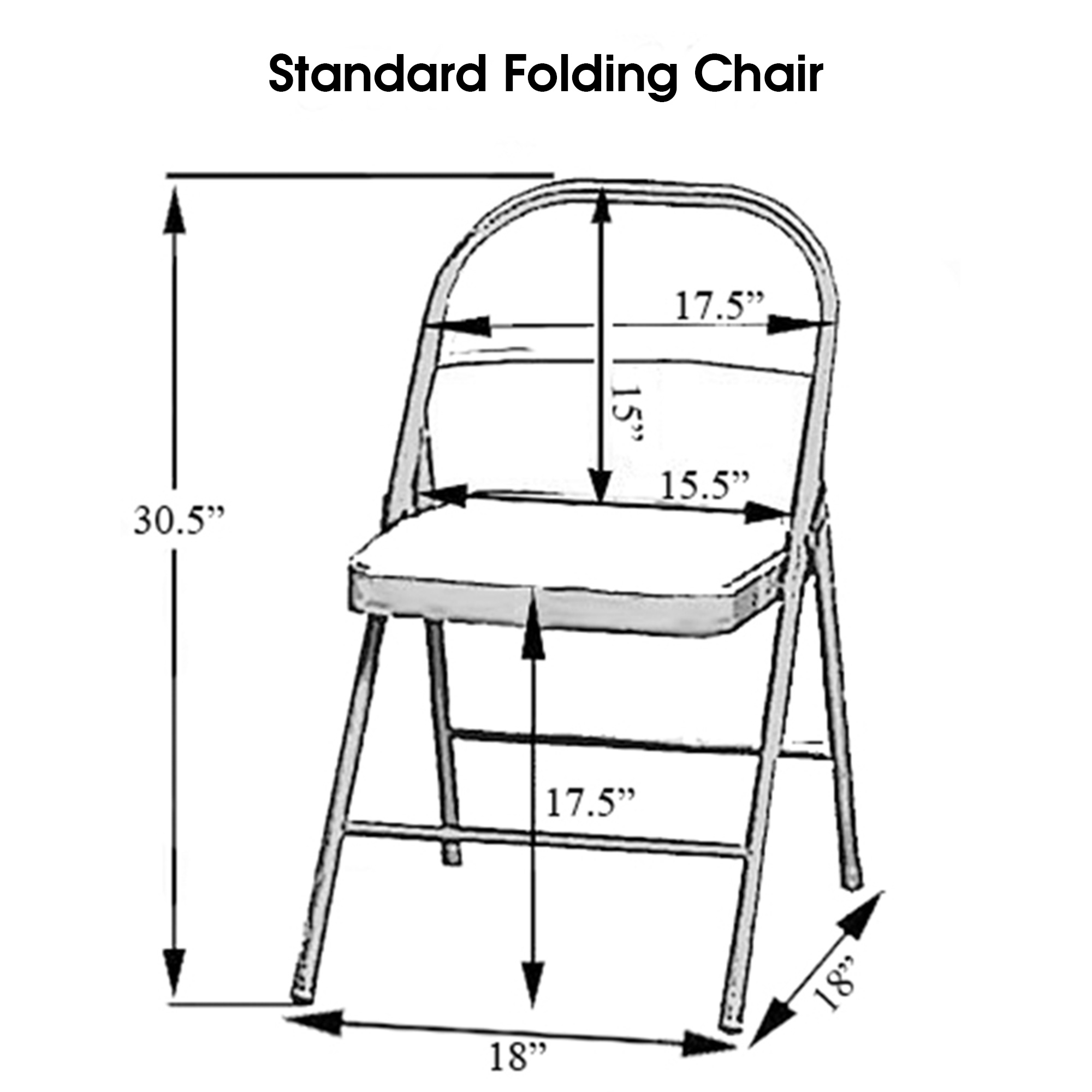 NOTE: There are inferior versions of these chair covers in the market today. We recommend purchasing a sample before placing a large order on our website as there is a huge quality difference among spandex folding chair covers that are available for sale online and at physical stores. For an enhanced look, we recommend using these chair covers with satin, organza, spandex, damask, lamour or crinkle taffeta chair sashes.
*Spandex is a stain and wrinkle release fabric. Meaning, stain absorption is reduced and wrinkle formation can be minimized.
I have recently started to purchase products from Your Chair Covers and so far they have been great, the covers fitted perfectly and the quality of the tablecloths are excellent. I will continue to purchase my supplies from their Company.

Best Regards,


Wonderful and Easy to Use

I ordered these chair covers, not sure if this price could be real and be quality too. The chair covers are wonderful! Easy to put on and take off, and easy to wash and reuse. They were also shipped out the same day I ordered them! Quickest response time ever.