SKU: pol-fold-cc-black

UPC: 702785737378

Condition: New

Availability: Orders placed before 1PM PST (excluding holidays and weekends) ship same day.

Weight: 0.54 LBS

Shipping: Calculated at the Checkout

Material: Polyester

Color: Black

Size: Folding Chair
Durable and of premium quality, our polyester folding chair cover in black is designed to fit standard folding chairs. These polyester seat covers for folding chairs are also known for being the most economical choice, as far as value for your money is concerned. These are very affordable! For years now, we've been supplying these black chair covers to chair cover rental companies, restaurants, wedding venue owners, hotel and catering business owners. These types of chair slipcovers stylishly contour both sides of the folding chair. Made from high quality polyester material, our black chair cover features serged edges to prevent fraying and for a professional, elegant appearance. If you're planning a lavish event, chair covers from Your Chair Covers make an excellent choice because our wholesale tablecloth and chair cover company is known for meeting hotel and restaurant product quality standards.
MATERIAL. 100% durable woven, wrinkle and stain resistant polyester*
GSM. 150 (A measure of the weight and thickness of the fabric)
COLOR. Black
CHAIR TYPE. Fits any standard folding chair (rounded back)
PACKAGING. Our polyester folding chair covers are individually-packaged.
CARE INSTRUCTION. Machine washable with room temperature/cold water in gentle cycle. Use normal detergent. Bleach is not recommended for this color. Don't wash with other materials. Wash like colors together. Tumble dry with low temperature. Avoid overloading and make sure washer and dryer are in good working order. Gradually dry in dryer to avoid temperature shock.
PLEASE NOTE THAT NOT ALL FOLDING CHAIRS ARE THE SAME. To determine if our folding chair covers will fit your chair, please use the sizing chart below. For more information about our wholesale chair covers and complementing tablecloths, please call us at 877-450-8383.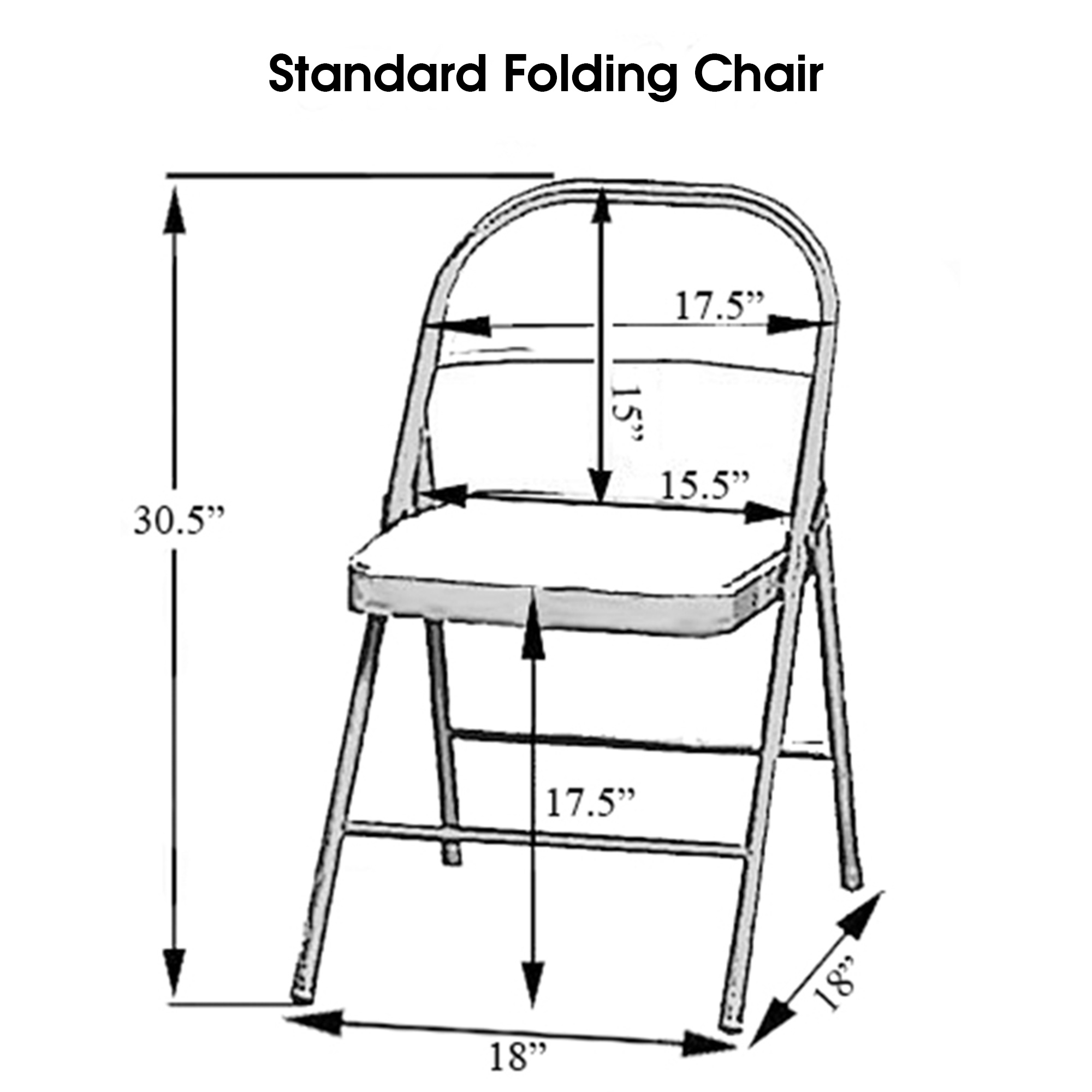 *Polyester is a stain and wrinkle release fabric. Meaning, stain absorption is reduced and wrinkle formation can be minimized.