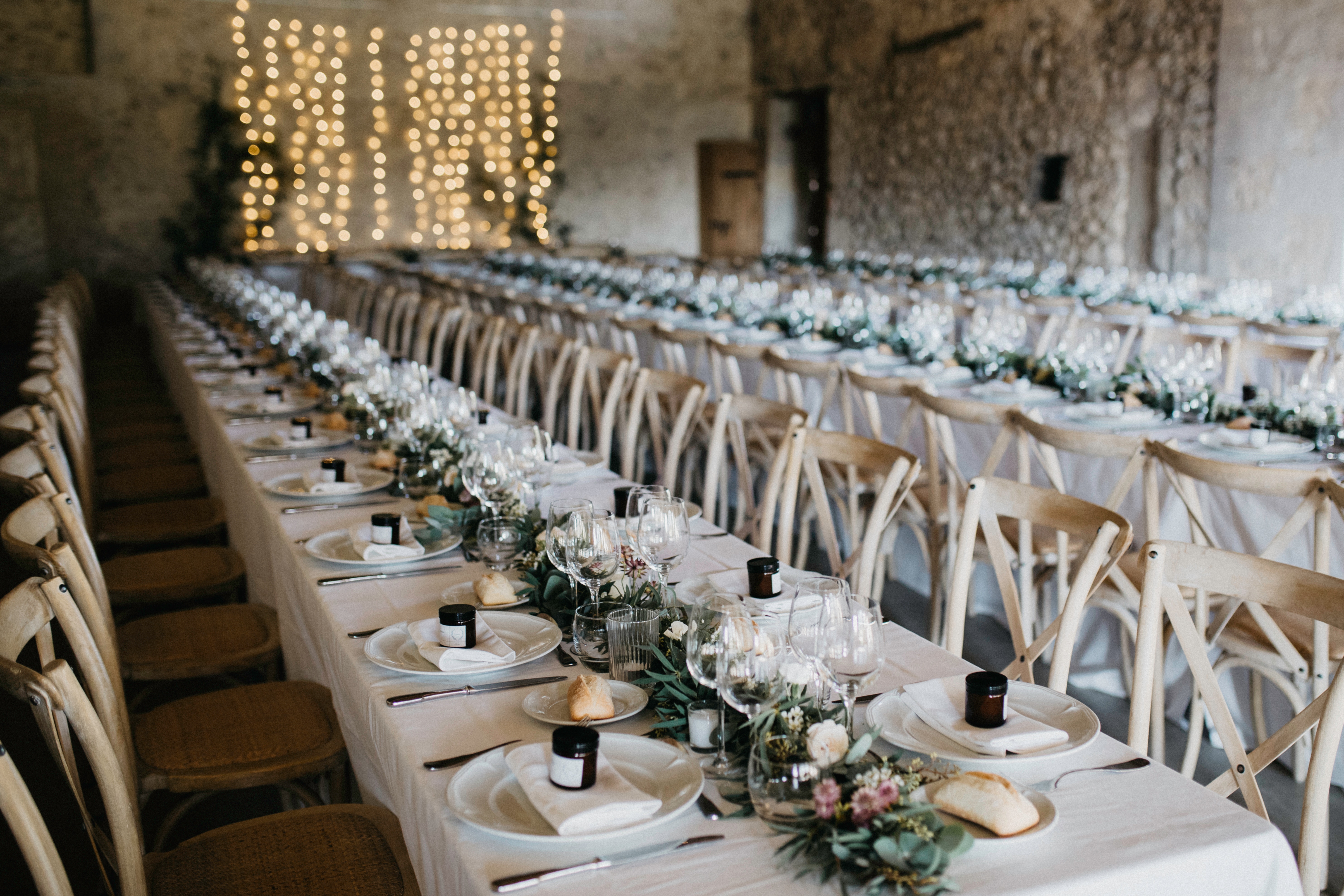 Top 9 Wedding Color Schemes for 2018
Has the day you've been dreaming about for as long as you can remember finally arrived? If you're tying the knot this year you've probably imagined every moment in your head already. You may already have the perfect dress in mind but have you thought about colors? Choosing your wedding color palette is one of the most important wedding decisions you'll have to make. It will tie in all elements of your big day from flowers and bridesmaid dresses to table linens and chair covers. To help with the extreme pressure of picking a wedding color scheme, here are nine wedding colors for inspiration.
1. Blue and Deep Red
Perfect for a fall wedding, the blue and deep red combination makes for a classic theme. Navy blue table linens and decor integrated with deep red flowers and decorations will create a gorgeous wedding theme. To break up the two strong colors use either neutral tones or maybe add a sliver of metallics to add texture.
2. Black, White and Gold
If you're looking for something unique and elegant then this is the color palette for you. Black, white and gold is a classy, timeless and truly magical choice for your day. Think crystal white table linens with gold centerpieces and a black table runner for extra drama. Try floor-length black dresses for your bridesmaids and black suits for the groomsmen. Compliment your black and white outfits with all-gold decorations including candles, cutlery, and menus.
3. Light Grey, Pastel Pink and Green
You can dress up or dress down this color combination to meet your taste. The pastel pink doesn't need to be overly feminine if that's not your style. The soft grey and green mixes with the pink to create a simple color palette that can be easily applied throughout your wedding. Perhaps dress up your wooden tables with a pastel pink table runner combined with green and pink flowers. With such a versatile color combination your decor can be made exactly how you want it with so many beautiful possibilities.
4. Navy Blue and Dusty Rose
A color combination that has been very popular for 2018 and will likely continue to be seen on the wedding circuit. The feminine and masculine colors compliment each other so easily, you can see why it's a popular choice. Try dressing the bridesmaids in rose pink dresses and groomsmen in navy blue suits. Dusty rose table linen will look fantastic with navy blue accents for decoration, think elegant candlesticks, glasses, and pink flowers.
5. Gold and Blush Pink
Whether you want to fully commit to a color palette or use accents of it throughout the day is entirely up to you. This gold and blush pink combination is very flexible and can be as big or small as you prefer. Blush pink table linens combined with gold cutlery and decoration on the table make for a feminine and flirty wedding style. Add in more neutral tones to your flowers, dresses, and tablescape to create a more subtle color scheme.
6. Off-White and Greenery
Adding greenery to any wedding is going to make it beautiful but when combined with an off-white, the results are perfect. Use crisp off-white table linens and chair covers for an elegant and simple decor. Finish off the cake with greenery and try using accents of it throughout the wedding. Keeping with the same style of flora on the tables and down the aisle, encompassing all the details together.
7. Lavender and Lilac
Even though you may think these shades are just both purple, the two colors look great together. The lavender is softer and a bit dusty while the lilac offers a much fresher look. A soft grey would also look great with this color scheme if you're looking to break up the two shades a little more. Think about using neutral colors for tables and use the lavender to brighten up the decor without being too overpowering.
8. Red, Cream and Peach
If you're looking for a strong earthy vibe, then this combination of deep red, cream and peach will be perfect for you. The cream and neutral tones compliment the strong red, leaving you with a lively and vibrant theme. This palette is especially great for spring or summer weddings but will go well with any venue all year round.
9. Lilac, Yellow and Mauve
Fantastic for a vintage garden wedding, these soft shades combine to create a floral yet sophisticated theme. Integrate floral prints and beautiful flower arrangements to really capture the feel of a garden wedding, no matter the venue. Vintage weddings are romantic and timeless, play around with the colors and add use accents of yellow in flowers and corsages to incorporate all the colors seamlessly.
Picking your color scheme is one of the biggest wedding decisions you will make so you need to be sure that it's the right choice for both you and your partner. If you're not sure where to start, Your Chair Covers can help you with all your linen needs from table covers and chair covers to overlays and runners.
Recent Posts
Considered essential in most dining situations, table linens help to show guests the style and leve …

When catering an event, so much planning and prepping goes into it. Whether you're catering a weddi …

Bridal Guide: 15 Beautiful Ways to Style Wedding ChairsThere are so many ways to decorate a wedding …