The 2018 Wedding Trends You Need to Know About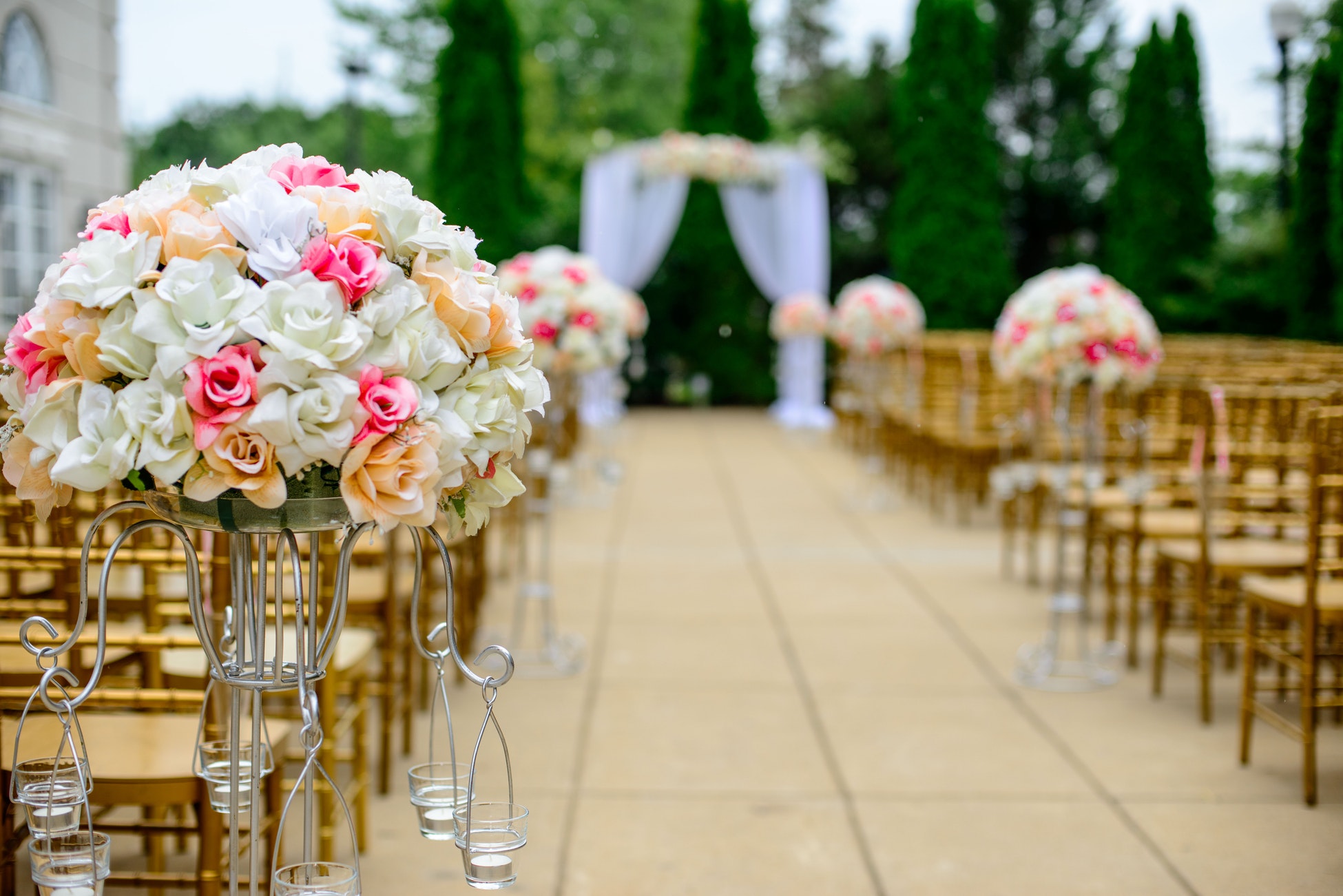 If you're planning a wedding this year then no doubt you've been trawling Pinterest for the latest trends that are sure to set your wedding apart from the rest. With each year, you can find new wedding trends that may be perfect for you and your partner. There will always be timeless elements to your big day that are great to stick to but adding a burst of color, a naked cake or unique food experience will create a day to remember. Whether you're planning an intimate gathering with your nearest and dearest or planning an extravagant affair, here are the 2018 wedding trends you need to know about.
Black Accents
Straight off the pages of designer magazines, incorporating black into your big day is not for everyone but can look incredible if done well. Think gorgeous black wedding dresses and dark linens. Give your day a modern monochrome look, this color palette will be sure to add drama to your day. Choose to either add accents of black with linens and flowers or create an entirely dramatic decor if you're looking for something to step away from tradition.
Rustic
Rustic weddings are a trend that has been around for a while and doesn't seem to be losing in popularity whatsoever. Taking place in beautiful barn venues, filled with natural-inspired decor, branches, and lanterns, this is a trend set to stay. For a chic and elegant rustic-style wedding, look for neutral colors with green and brown accents. If you'd like to add a splash of color, get inspired by your favorite flowers or use a simple lavender and gypsophila combination for a centerpiece.
Metallics
The love of rose gold and copper are still going strong and this year is no different. Gold and silver have long been used in weddings to create a timeless look but rose gold and brass are great for adding a modern twist. You don't need to stick to just one metal, try mixing it up with different types, to give the venue and tables much more texture. Despite gold being a staple in recent years, silver is making a strong comeback, adding that special sparkle.
Bold Colors are Back
Color is the best way to sew your personality throughout your big day. Whether it's a bold table runner or subtle flash of color dotted throughout the venue, color is a fantastic way to brighten up your wedding decor. Hot colors this year include warm coral, pinks, and blues. Having said that, choose a color you love and if that's a zesty lemon or deep blue then go for it. As well as using table linens to create your dream color scheme, don't forget to use flowers or colored glassware to truly ignite your tablescape.
Use Textures
A popular 2018 wedding trend is the introduction of different textures and elements to really wow guests. Think about using a number of assorted linens for each table and focus on details. Look out for laser-cut linens in white and neutral tones for a dramatic effect that your guests will definitely notice. When bringing in more texture to your wedding, you don't need to stop at your linens. Keep an eye out for wax seals on menus, unique glassware and cutlery holders that will give your guests a fantastic wedding experience.
Pantone's Color of the Year
As Pantone's Color of the Year, ultra violet is a sure wedding trend for 2018. Whether you want to use it as the main color theme or incorporate elements of it into your decor and venue, it's bound to add a gorgeous vibrancy. The deep regal shade of purple can be as bold or as subtle as you like on the day, depending on how much you want to commit to it. Perhaps use the color in your bouquet or flower crown or maybe just use an ultra violet ribbon to tie your flowers together. Choose to have a splash of color with napkins or go all out with some bright and vibrant linens.
Garden and Greenery
Get inspired by Mother Nature and introduce some lush greenery into your decoration. Create a classic look that looks expensive and will always be in style. Coordinate your flowers, linens, and cake with the perfect shades of green and neutral tones. If you're loving the greenery, kick it up a notch by taking your wedding outside into the garden. Transform tipis and marquees into a green oasis. Keep it simple and leave your guests impressed with a romantic setting that you'll love.
Wedding trends are always changing and are a great place to look for inspiration to make your day magical. Choose something that you love and be wise when choosing your color palette. Your Chair Covers can help with all your linen needs, from table covers and runners to chair covers and napkins. Check out the weekly specials for fantastic deals.
Recent Posts
Considered essential in most dining situations, table linens help to show guests the style and leve …

When catering an event, so much planning and prepping goes into it. Whether you're catering a weddi …

Bridal Guide: 15 Beautiful Ways to Style Wedding ChairsThere are so many ways to decorate a wedding …