Bridal Guide: 15 Beautiful Ways to Style Wedding Chairs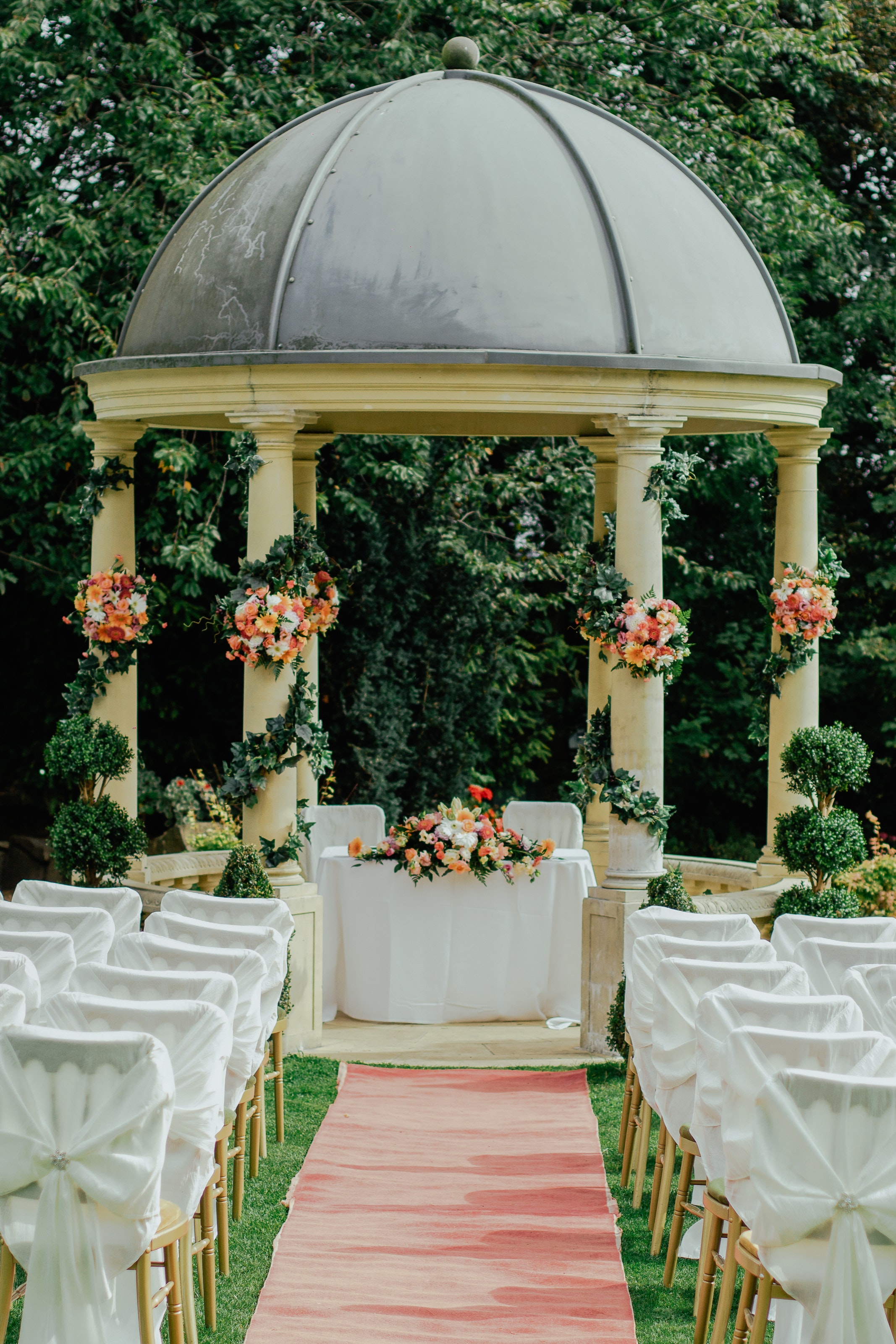 There are so many ways to decorate a wedding chair, whether you want covers and sashes or prefer a simple ribbon tied on the back, there's something to fit in your wedding theme. Once you've decided on your color palette, you can begin finding inspiration and decor ideas. Wedding chairs can have a massive impact on your wedding decorations and what you choose can really complete the look.
From simple ribbons and sashes to shimmery chair covers, there's plenty of options to dress up your seating. If you're happy with the style of chair you may be looking to add just an extra detail to make it perfect. On the other hand, you may need to dress up the entire chair with covers and sashes. In case you're stuck for inspiration, here are 15 ways to create gorgeous wedding chairs.
1. Blush Pink Satin Bow
A blush pink satin bow is perfect for a flirty, feminine and classic wedding style. Pair the bow with either a tight-fitting or loose white chair cover to make the color of the bow pop. Blush pink goes well with navy blue if you're looking to add a masculine color to your wedding scheme.
2. Rustic Flowers
To create a gorgeous earth-toned floral wedding chair decoration, use vibrant autumnal colors and greenery against a crisp white spandex chair cover. The contrast between the colors looks best against tight-fitting chair covers. This is a perfect nature-inspired option if you're looking for something a bit different.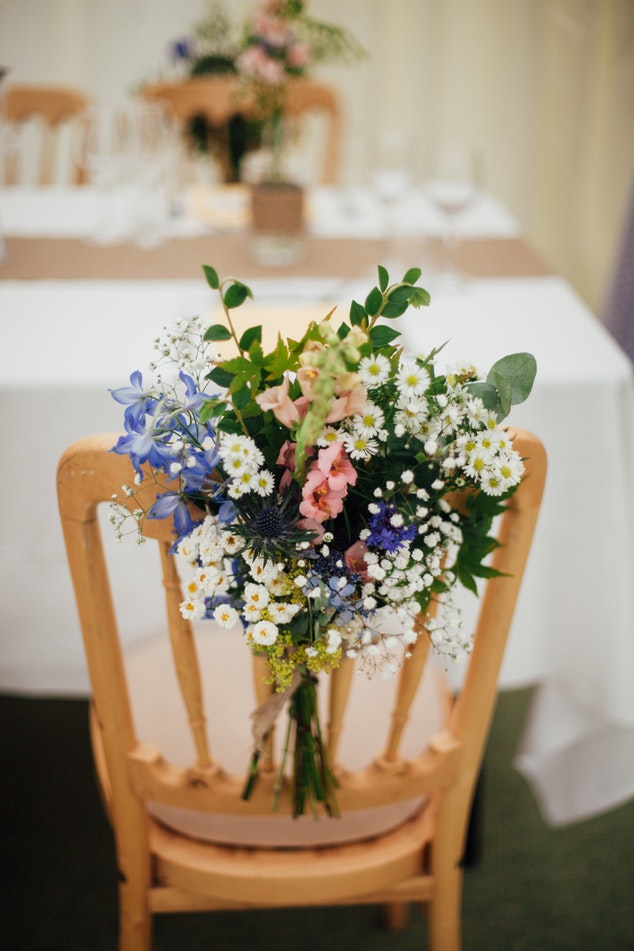 3. Royal Blue Chair Bows
Give your wedding a regal touch with dramatic royal blue chair ties. These look fantastic against a pure white chair cover. Chair decor is a great way to add your personality to your big day. Try using accents of royal blue throughout the wedding, be that the bridesmaid dresses or a royal blue hairpiece.
4. Diagonal Sashes
There's no need to tie sashes in one place, get creative with the positioning and you could be surprised. If you're looking for something unique and refreshing, try diagonal sashes.
5. Chalk Board Chair Signs
You've probably already saved this style to your Pinterest board if you've been looking for some rustic-style wedding inspiration. These could either be used on just the top table for the bride and groom or be used throughout the entire wedding in place of name cards.
6. Burlap Chair Sashes
Burlap is here to stay and for a good reason. A burlap chair sash helps tie in the rustic vibe to your wedding and looks fantastic. Burlap is such a versatile material. If you already have great wooden chairs then simply use the burlap sash to finish off the chair. Burlap also looks great with chair covers as well, if you're looking to dress up your seating a little more.
7. Add a String of Pearls
For a dramatic, Parisian inspired wedding, drape a string of pearls on the back of the chair for simple yet effective decoration. This would also look great at any bridal shower. Pearls can be used alongside a delicate dusty pink and mauve scheme or fit perfectly with deep reds, black, and gold.
8. Satin and Chiffon
Satin and chiffon are two materials that complement each other so well, it's no wonder they are a popular wedding choice. Using two different materials helps add texture to your decor and are pleasing to the eye.
9. An Asymmetrical Bow
You can tie a chair sash a number of ways to create your wedding look. An asymmetrical bow is a fresh and easy way to mix up the traditional chair back. Use a satin or lace chair sash or even some tulle to create a gorgeous wedding chair style.
10. Simple Lace
Adding a simple piece of lace to the back of the chair can work wonders. Whether you want a traditional sash style or want to drape the material through the back of the chair, lace is a fantastic and beautiful material. You can also use accents of lace throughout your wedding, either being picked up in your dress or perhaps the hem of your table runners.
11. Silky Satin Sashes
You can't go wrong with a classic silky satin sash, it's timeless. Create the perfect look with a crisp white chair cover wrapped with a satin sash. The color choice is down to you, go bold or subtle but make sure it fits in with your wedding color palette.
12. Frothy Tulle
Add a piece of tulle to the back of your wedding chair for a pretty and feminine look. Tulle can either be used as the only piece of fabric to dress up simple chairs or be placed over the top of a chair cover and sash to add that extra bit of glam to your decor.
13. A Single Flower
A simple yet effective way to style your wedding chair is by just adding a single flower to the back of the chair. It might not look much alone but altogether the chairs will look gorgeous. This is also a great way to save money as you only need one flower for each chair and would be able to buy them in bulk at a reduced price.
14. Wreath
A perfect option for an outdoor wedding, hang a wreath of branches, leaves, and blossoms on the back of the chairs. This would look great with simple wooden chairs, simply tie the wreath to the chair using ribbon and amaze your guests with something out of the ordinary.
15. Mason Jars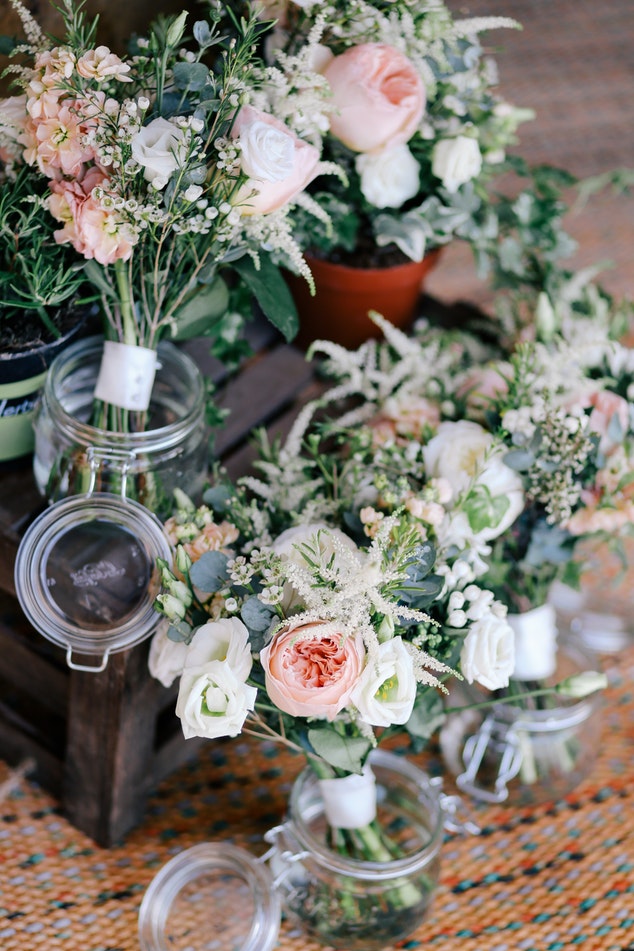 With Mason Jars being so popular not just for weddings but interior decor as well, it's no surprise they're being used as chair decorations. If you have a simple chair and are looking to dress it up, hang a mason jar filled with a small bouquet of flowers on the back of the chair. Jars of flowers are great for aisle markers as well as wedding table decorations.
Your Chair Covers has a wide range of wholesale tablecloths, chair covers and sashes to make your wedding a day to remember.
Recent Posts
Considered essential in most dining situations, table linens help to show guests the style and leve …

When catering an event, so much planning and prepping goes into it. Whether you're catering a weddi …

Bridal Guide: 15 Beautiful Ways to Style Wedding ChairsThere are so many ways to decorate a wedding …