SKU: spa-36rctail-40

UPC: 702785740354

Condition: New

Availability: Orders placed before 2PM PST (excluding holidays and weekends) ship same day.

Weight: 0.95 LBS

Shipping: Calculated at the Checkout

Material: Spandex

Color: Silver

Table Size: 36 Inches

Shape: Round
36 inch Spandex Highboy Cocktail Table Covers in Silver. Stretch Tablecloths for 36" x 42" Round Top Cocktail Tables or Bistro Tables.
Made from high quality four-way stretch spandex material, our silver stretch spandex 36 inch round highboy cocktail table covers exemplify modern sophistication and luxurious elegance. They are designed to fit 36" round highboy tables with 42" height at weddings, casinos, hotels, restaurants and other special events. Silver spandex highboy tablecloths from Your Chair Covers feature deep canvas foot pockets, are durable, do not require ironing and can be laundered countless times.
MATERIAL. Made from wrinkle and stain resistant four-way stretch spandex material
GSM. 200 (A measure of the weight and thickness of the fabric)
COLOR. Silver
SIZE. 36 inches diameter x 42 inches table height (round top cocktail table covers)
CARE INSTRUCTION. Machine washable with water (cold or room temperature) in gentle cycle. Use normal detergent. Bleach is not recommended. Don't wash with other materials. Wash like colors together. Tumble dry with low temperature. Avoid overloading the machine and make sure that both the washer and the dryer are in good working order. Gradually dry in dryer to avoid temperature shock.
For help on how to determine the right tablecloth size, please use our tablecloth sizing chart. For an enhanced look, we recommend using table runners, table overlays and cloth napkins in complementing colors.
This silver spandex tablecloth is designed for this type of highboy or bistro table: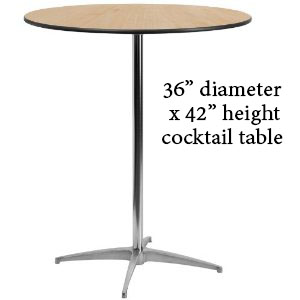 Wholesale Tablecloths, Table Linens, Hotel Table Cloths | Los Angeles, Orange County and San Diego, California
If you are in Los Angeles County and Orange County in California, you are welcome to stop by at our corporate office and warehousing facility in Sun Valley. We are offering pick-up options for Greater Los Angeles, San Diego, Orange County and downtown LA linen shoppers. We recommend placing the order over the phone prior to your visit. To be more efficient, kindly give us a call at least an hour before your intended pick-up time.
Toll Free: 877-450-8383
E-mail: sales@yourchaircovers.com
Business Hours. Monday - Friday, 7AM-5PM (Pacific Time)
Best spandex cocktail table covers out there!

Its very difficult to compare the quality of these products on different sites, so I decided to purchase a sample before placing a big order. These table covers were the best. The quality is so much better than their competitors and the prices are great. I will never buy spandex table covers from anywhere else!